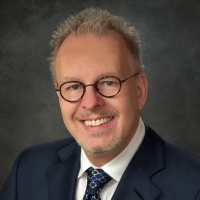 Jay Bowman 先生
United State
講演・研修イベント
Keynote Speaker
" Improving the Predictability of Clear Aligners"

As the limitations of clear aligner treatments have been identified, conceptualizing techniques and devices to improve the predictability in producing desired results has been the next logical step. A variety of concepts, methods, and adjuncts have subsequently been introduced to enhance the efficacy and effectiveness of clear aligners. As a consequence, the scope of biomechanics and type of malocclusions that can be more predictably treated has increased. As one example, the inclusion of miniscrew temporary skeletal anchorage has permitted the addition of direct and indirect anchorage to support and control more predictable programmed tooth movements with aligners. In addition, specific instruments have also been developed to facilitate the individualization of aligners to apply specific forces.
At the completion of this seminar, the orthodontist will: 
Understand the purpose and advantages of individualizing clear aligners and applying adjunctive forces to increase treatment predictability.

Be familiar with a variety of applications and uses for adjuncts to aligners such as miniscrew anchorage, the addition of buttons/elastics, and enhancement instruments.

Be able to prepare a streamlined process for enhancing the clear aligner treatment planning process to incorporate individualized modifications for each patient.

Increase the scope and predictability of clear aligner options.
*The speaker has a financial interest in devices developed for use with clear aligners.  
Jay Bowman DMD, MSD, Portage MI USA
https://www.facebook.com/kalamazooorthodontics
Dr. S. Jay Bowman is a Diplomate of the American Board of Orthodontics and a member of the Edward H. Angle Society of Orthodontists.  He is on the faculty of The University of Michigan, Saint Louis University, Case Western Reserve University, Seton Hill University and was a Milton Sims Visiting Professor at the University of Adelaide.  He received the Angle Research Award in 2000, the Alumni Merit Award from Saint Louis University in 2005, Orthodontic Education Research Foundation Award in 2017, and will be presenting the J.A. Salzmann lecture at the American Association of Orthodontists in 2022. 
He is co-author/editor of the book:  Mini-Implants in Orthodontics:  Innovative Anchorage Concepts. Jay has placed over 5000 miniscrews.  He has over 150 articles and book chapters published. Jay has been a contributing editor for Seminars, Angle Orthodontist, AJODO, and JCO; has lectured in 36 countries, and has been in the private practice of orthodontics for over 30 years.