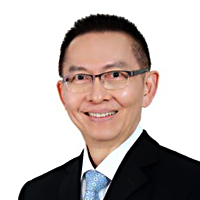 Narandr Chevangkul 先生
タイ
講演・研修イベント
来歴
1976年
Bachelor of Science, Faculty of Science, Mahidol University
1980年
Dental School, Mahidol University
1982年
Certificate in Orthodontics,
Master of Science in Dentistry, Temple University, School of Dentistry, USA
National Board Dental Examination, USA

1983年
Member of the Thai Association of Orthodontists
International member of the American Association of Orthodontists
1990年
Diplomate, American Board of Orthodontics (First Orthodontist in Thailand)
Member of the American Board of Orthodontics
Member of the College of Diplomate, American Board of Orthodontics

1993年
Chartered Member of the American Lingual Orthodontic Association
2001年
Invisalign Certified Doctor
2014年
Member of the APAC Invisalign Clinical Advisory Board
Invisalign Black Diamond Provider
CURRICULUM VITAE
DR. NARANDR CHEVANGKUL
DDS. (First class honor), MSD (Temple University)
Diplomate, American Board of Orthodontics
Education
1983-present AAO continuing Education
2001 Invisalign Certified Doctor
1990 Diplomate, American Board of Orthodontics(First in Thailand)
1982 Certificate in Orthodontics, Master of Science in Dentistry, Temple
University,School of Dentistry, USA
National Board Dental Examination, USA
1980 Doctor of Dental Surgery, First Class Honors,Silver Medal Award,
Dental School, Mahidol University
1976 Bachelor of Science, Faculty of Science,Mahidol University
Achievements:
2019- Present Invisalign Blue Diamond Provider
2018 Invisalign Red Diamond Provider
2016-2017 Invisalign Blue Diamond Provider
2014-2015 Invisalign Black Diamond Provider
1983-Present: Dr.Chevangkul owns Denta-Joy's 12 dental offices. 9 of them are located in
Bangkok, One is in Pattaya and the other is in Udonthani. We also have 1
overseas office in Phnom Penh, Cambodia.
2014-2018 Clinical Advisory Board, Asia Pacific, Invisalign, Align Technology
1990-present Member of the American Board of Orthodontics
1990-present Member of the College of Diplomate, American Board of Orthodontics
1983-Present International member of the American Association of Orthodontists
1983-Present Member of the Thai Association of Orthodontists
Community Service:
2022-2023 Keynote Speaker for Brava by Brius International Certification course,
Bangkok, Thailand
2018 Summit Speaker, 2018 Asia Pacific Summit, Align Technology Inc.
2018 Keynote Speaker, Taiwan International Aligner Symposium, Taipei, Taiwan.
2017-present Advisor and Keynote lecture, Alignersity (on-site and online)
2015-present Keynote Speaker, Japan Academy of Aligner Orthodontics (JAAO), Tokyo,
Japan.
2012 Lecturer at Invisalign Immersion course for Chinese dentists, Bangkok, Thailand.
2003 Visiting Lecturer "Lingual Technique" at Ninth People's Hospital University,
Shanghai, China.
2002 Visiting Lecturer "Lingual Technique" at Capital Medical University, Beijing,
China
1997-2004 Lecturer at Thai International Airways PLC on the topic of Impressive
Personality
1995 Representative of the Rotary Club of Bangkhen to the Rotary club of Naniwa,
Osaka, Japan
1995 President of Rotary Club of Bangkok, Thailand
1987 Chartered member ALOA , American Lingual Orthodontics Association.
1984-1986 Clinical Professor of the Orthodontics Department, Mahidol University
Leisure:
Member of Royal Bangkok Sport Club (RBSC) since 1984
 Message from Dr. Kenji Ojima to Dr. Narandr Chevangkul
DDS. (First class honor), MSD (Temple University)
Diplomate, American Board of Orthodontics
Dr.Chevangkul owns Denta-Joy's 5 dental offices. With his extensive experience and expertise, he started to provide orthodontic treatments at the first Denta-Joy office in 1983.
Since then, the clinic has been providing orthodontics the Lingual technique and with the Invisalign technique since 2001.
Denta-Joy offices provide 21 dental chairs to the public and are open daily, offering every type of dental specialty in Bangkok.
Dr.Chevangkul works with an average of 60 patients a day. Dr.Chevangkul also has attended The American Association of Orthodontist (AAO) Convention to study updates in research and new innovations every year since 1983.