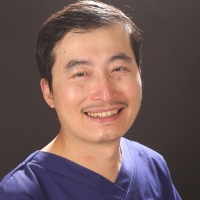 Stephen Chang 先生
講演・研修イベント
Keynote Speaker
< An Insight on the Moment and Biomechanics of Aligner >

Abstract:Align developed clear aligner in 1997. With the advancement of technology, more and more dentists introduce this tool into their daily practice. In spite of the new attachments design and new optimal force application to
be used in deep bite or any other challenging cases, we cannot guarantee the results will be what we expected every time. You may have aligner off-track or anterior teeth over lingual tipping experiences when using aligner in extraction cases. What are the reasons that caused the teeth to move out of control? Can we prevent these situations or is this the limitation when working with aligners?
We could use light round wire to level and align crowding cases easily in conventional orthodontic braces mechanics. From our understanding of the bowing effect, we know how to prevent unwanted bowing effect in braces mechanics. We often use 0.016"x 0.022" inch or larger size rectangular wire
combined with highly wire bending techniques to make reverse curve of Spee in closing extraction spaces. But could we apply the same principles in aligner mechanics?
Aligner is made of super resilient plastic material and the elastic property is similar to 0.014" or 0.016" inch NiTi wire . Molar mesial tilting and losing anterior teeth torque control is often found in the constriction of extraction space. In my experiences , I often combine local braces and aligner to
achieve optimal results .
We may get some insight by rethinking the moment and aligner biomechanics in facing the challenging problems. Instead of conventional braces biomechanics, we could learn from Dr. Burstone, the pioneer of orthodontic biomechanics.
President , Taiwan Association of Aligner Orthodontics 2016-2017
Chairman , International Taiwan Aligner Orthodontic Congress 2015-2016
Clinical Instructor , Taipei Medical University Hospital 2009-2014
Board , Taiwan Association of Orthodontics 
Founder , SMArt Concept Academy
Master Degree ,  Orthodontic Department of Taipei Medical University