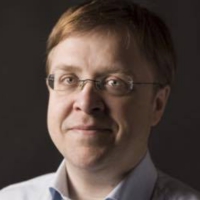 Francesco Garino 先生
Italy
講演・研修イベント
10代においてクラスIIのアライナー治療:どんなオプションがある?
< Teenagers and Class II treatments with aligners: which are the options ? >

クラスII治療は、成人と10代の患者の中で最もよく行われる矯正治療の一つである。本講演では、10代の患者において様々な治療オプションを年齢、成長、顔、歯、骨の状況でどのように決めるかを語る。
Dr. GarinoはクラスII治療において、まず特定なアタッチメントを用いられた遠心移動のアプローチを紹介して、それからバーチャルプラニングにおいてバーチャルバイトジャンプ効果を利用するかと説明する。
さらに、アライナー矯正とモーションアプライアンスはいつ、どのように使うかを説明し、最後に成長の最中にある患者さんの治療に革命的な下顎前方デバイスを症例を通して紹介する。
症例選択の重要性をハイライトし、(クラスIIのインビザライン治療の管理に必要なソフトと臨床的な道具)現在の可能性と限界についても語る。

Abstract: Class II treatments represents one of the most frequent malocclusions that every orthodontist have to treat today, both in adults and teenagers. Within this lecture, the speaker will share the different treatment options used with teenagers where the decision is made depending on patient's age, growth, facial dental and skeletal factors.
Dr. Garino will share with the audience his protocol for Class II first with a distalization approach with the use of specific attachments, then he will explain when he is using the virtual bite jump effect as strategy in the virtual planning.
Moreover, he will explain when and how he use a hybrid approach with the Motion appliance when he is using aligners and, last but not least, he will introduce through clinical cases in progress the most recent innovation represented by the use of the mandibular advancement feature, a revolutionary tool in aligner treatments in severe Class II /I in growing patients.
The speaker will highlight the importance of the case selection, which are the main software and clinical tools to use in managing Class II cases with Invisalign technique, including the current possibilities and limitations.
Keynote Speaker
New tools to improve efficiency in Class II treatments with Invisalign

Treatments with aligners became in the last years more and more frequent in the daily practice not only in adult patients but also in teenagers. One of the main goals is to keep treatment timing as efficient as possible and this is based on the current Invisalign possibilities, patient compliance and also the presence of new technologies and techniques which can optimized the treatment timing both in adults and teenagers.
Regarding techniques, Dr. Garino will share his approach which can be done purely with Invisalign and in other situations combined with the Motion appliance. About technologies, he will share his protocols in managing class II in combination either with vibrating devices or with photobiomodulation and share the feedback he found both clinically and by patients.
Last but not least Dr. Garino will share his 5 year experience with intraoral scanning with iTero scanner, from 2.5 until Element, and the main factors which can improve efficiency in the orthodontic practice.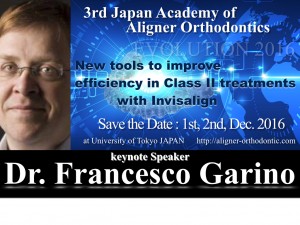 Message from Dr. Kenji Ojima to Dr. Francesco Garino Introduction
 M.D. degree, University of Torino, Italy
 Orthodontic specialization, University of Padova,Italy
 Diplomate European Board of Orthodontics (EBO)
 Active member SIDO (Italian Society of Orthodontics)
 Founding member of the Italian Academy of Orthodontics (AIDOR)
 International Member American Association of Orthodontics (AAO)
 Member European Society of Orthodontics (EOS)
 Active Member European Society of Lingual Orthodontics (ESLO)
 Fellow World Federation of Orthodontics (WFO)
 Chief dental officer Winter Olympic Games Turin 2006
 Author of more than 80 orthodontic papers
 Speaker in Congress and Meetings in Europe, Middle East, USA
 Invisalign certified since 2001
 Platinum Elite status since 2006
 Invisalign speaker since 2008
 Speaker at the European Invisalign Summits since 2006
 Member of the European Advisory Board Align technology
 His clinical interest is focused on self ligating brackets, early treatment, digital
technologies and non compliance appliances.