2016/12/01 (THU)
Japan Academy of Aligner Orthodontics 2016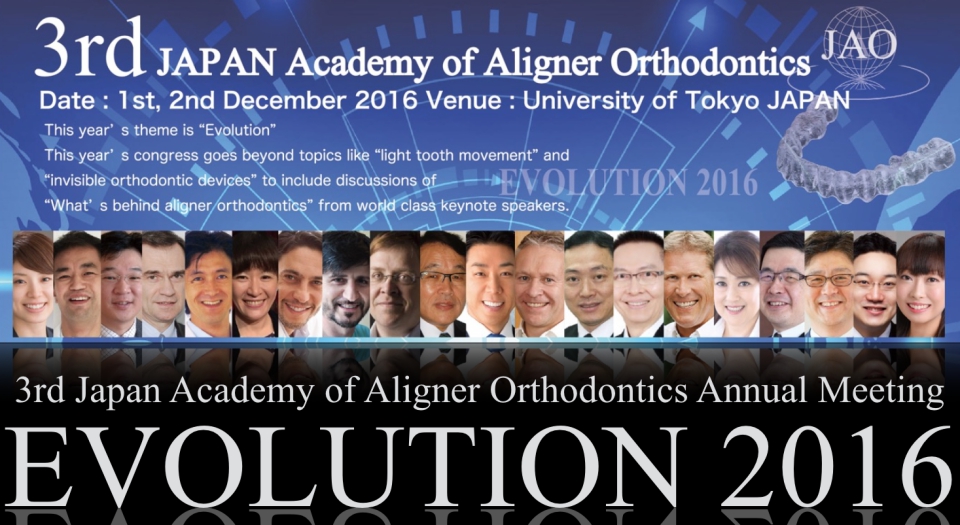 Already finished The 3rd Japan Academy of Aligner Orthodontics.
This year's theme is "Evolution"
This year's congress goes beyond topics like "light tooth movement" and "invisible orthodontic devices" to include discussions of "What's behind aligner orthodontics" from world class keynote speakers.
Amazing aligner orthodontic systems are being developed world wide. These approaches utilize orthodontic appliances which cover the occlusal surface, representing a fresh, non-traditional approach to orthodontic treatments. 
On the first day of the 2014 meeting of the AAO (American Association of Aligner Orthodontics) 4 presentation slots were dedicated to aligner appliances. Professor Tim Wheeler's presentation introduced over 50 different aligner treatment systems used around the world. Japanese systems were notably absent from this presentation. I realized that at that time, Japan was not counted among countries with treatment systems on the cutting-edge of aligner orthodontics. 
The first symposium of aligner orthodontics my colleague Dr. Dan and I attended was the second annual meeting of the German Association for Aligner Orthodontics (DGAO) in 2012. The environment we experienced was respectful, without a hint of criticism; purely a place to study, present and exchange opinions on different aligner orthodontic systems. It became my mission to foster a similar atmosphere in my own country and 2 years later, in 2014, we were able to make this dream a realty through the first meeting of the JAO. 
My main motivation for holding symposia such as this one is to foster an opportunity to breakdown the barriers between practitioners of different aligner orthodontic systems and bring them together to exchange opinions and information, broaden our collective knowledge of treatment possibilities, and ultimately transfer these benefits, through better treatment ,to our patients both in Japan and in our respective countries of practice.
In November of 2014, I was honored with the opportunity to present at the DGAO on Invisalign Orthodontic Treatment. The event hall was filled with over 600 orthodontists, not only from Germany, but from Italy, France and Spain as well. Following my presentation, I was inaugurated as the president of the Asian Chapter of the DGAO. Ever since, has been our collective goal to deepen the exchange between academic societies of aligner orthodontics of Germany and Japan. 
The DGAO was founded 5 years before the JAO. The JAO may still be in its infancy, but we expect to be the gathering ground of wisdom for the future of aligner orthodontics in Japan.
Kenji Ojima ( President of JAO) 
Time Table
Program of 3rd Japan Academy of Aligner Orthodontics
1.Dec .2016
9:10~9:20
Open
9:20~9:45
Registration Start
9:45〜10:00
Opening
■Dr. Kenji Ojima
「Introduction "The Evolution of Aligner Orthodontics"」
10:00〜11:50
■Keynote Speaker
Dr. Sabrina Huang
Title「Why Aligner?」
11:50〜11:10
■Dr. Hisao Murakami
Title「Treatment planning by the use of ClinCheck Pro and VTO」
11:10〜11:30
■Dr. Mamoru Kubota
Title「Extraction or Non-extraction?」
11:30〜11:50
■Dr. Chisato Dan
Title「Invisalign orthodontic for teenager」
11:50〜12:40
■ Keynote Speaker
Dr. Yi Kwong Yau
Title「The Mysterious "Jump" in Aligner Orthodontics」
12:45〜13:45
Lunch
Exhibit Session
13:50〜14:10
■Dr. Sayumi Sakamoto
Title「ASO Aligner approach」
14:10〜14:30
■Dr. Louis­Charles ROISIN
Title「DENTAL MONITORING: THE FIRST SELF MEASUREMENT TOOL IN ORTHODONTICS FOR TREATMENT FOLLOW UP」
14:30〜15:20
■Dr. Tommaso Castroflorio
Title「Invisalign aligners: from basic research to clinical application」
15:20〜15:50
Coffee Break
15:50〜16:05
■Dr. Yuriko Kumagai
Title「Open Bite of Invisalign Orthodontics」
16:05〜17:05
■ Keynote Speaker
Dr. Junji Sugawara
Title「Surgery first with Application of Aligners」
17:05〜17:25
■Dr. Norimasa Okafuji, Dr. Jun Kawamura
Title「Basic Research Background of Tooth Movement Examined by Aligner Orthodontics
-Studies of Histological and Finite Element Simulation- 」
18:30〜20:00
GALA Dinner
2. Dec. 2016
9:00
Open
9:20〜10:00
■Dr. Kenji Ojima
Title「Acceleration Invisalign Orthodontics of Extraction Case」
10:00〜10:50
■ Keynote Speaker
Dr. Kamy Malekian
Title「Class III MALOCCLUSSIONS.LOWER DISTALISATION WITH INVISALIGN TECHNIQUE」
10:50〜12:20
■ Keynote Speakers
Prof. Werner Schupp , Dr. Wolfgang Boisseree
Title「Interdisciplinary Approach」
12:20〜13:20
Lunch
13:20〜13:40
■Dr. Ahn Kilwoo
Title「KenLine Orthodontics」
13:40〜14:30
■ Keynote Speaker
Dr. Francesco Garino
Title「New tools to improve efficiency in Class II treatments with Invisalign」
14:30〜15:20
■ Dr. Narandr Chevangkul
「Advanced Invisalign with Surgery」
15:20〜15:40
Break
15:40〜16:00
■Dr. Hirohide Arimoto
Title「Racing car that drives by amateur - 3 Clinical Tips for Accelerated Aligner Orthodontics」
16:00〜16:20
■Dr. Noriyuki Shinohara
Title「Aligner treatment based on MOO (Molar Oriented Orthodontics)」
16:20〜17:00
Close Session
1 Dec 2016〜2 Dec 2016
Program