3rd December 2022
Direct Print Material Seminar 2022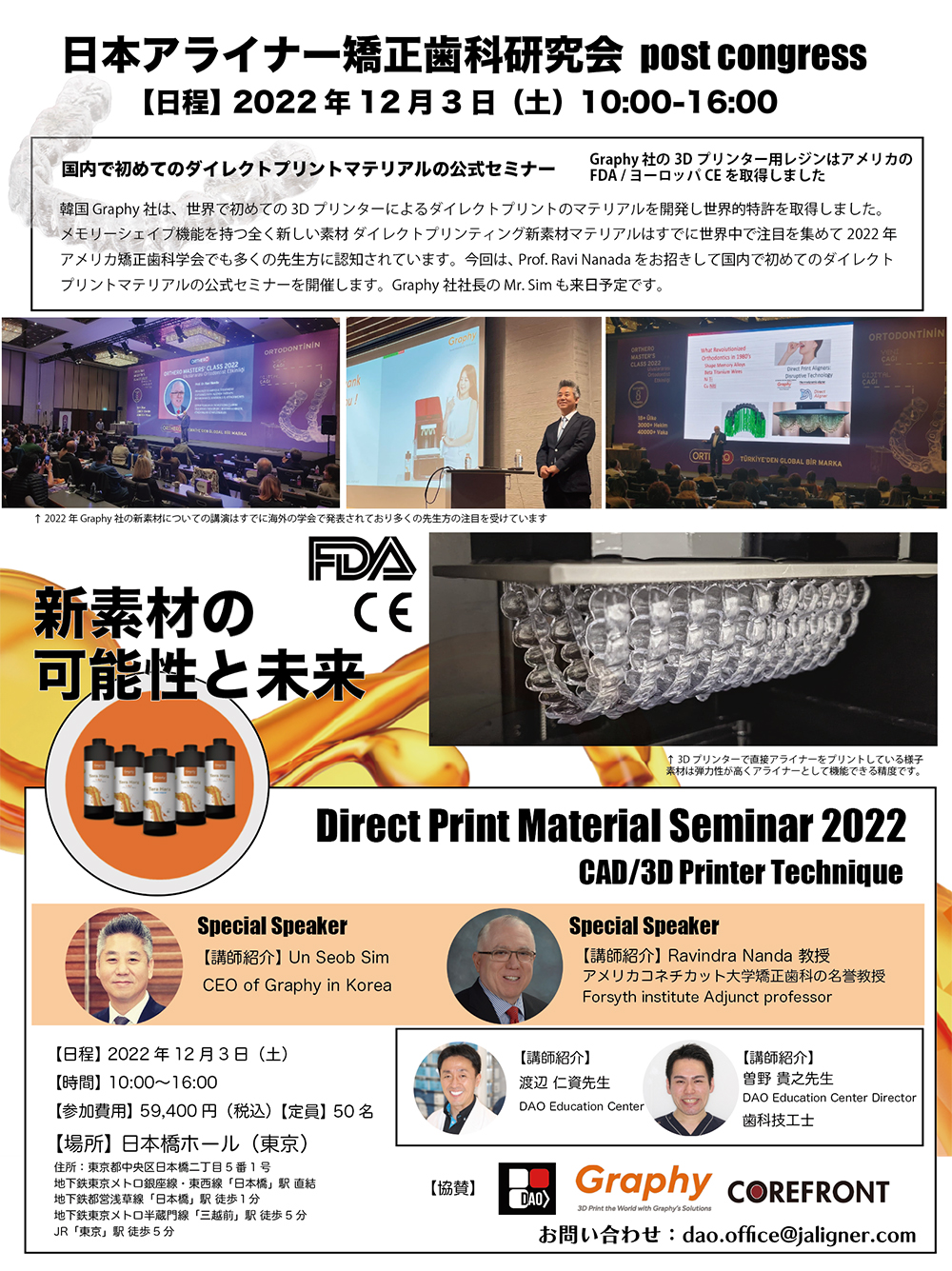 Many of you may already know about Direct Print Material, but it is a material for 3D printers with a completely new memory shape (shape memory) function. This material has made it possible to print mouthpieces that can be used intraorally directly with a 3D printer. Information has been withheld until now, but since this material has obtained FDA approval in the United States (CE in Europe has already been obtained), we will hold the post-congress of the Japan Society of Aligner Orthodontics as follows. became.
Direct Print Material Seminar 2022
Time
10:00 - 16:00 (Acceptance start : 9:30 -)
Venue
Nihonbashi Hall
Capacity
50 people
Registration Fee
59,400JPY(Tax in / lunch included)
* One free sample direct print aligner
Speaker
Mr. Un Seob Sim (CEO of Graphy)
Prof. Ravi Nanda (Professor Emeritus, University of Connecticut, USA)
Dr. Hitoshi Watanabe
Dr. Takayuki Sono
and others
Registration Form
https://forms.gle/44zApajsS98qCPQW8
*This seminar will be more understandable if you listen to the main conference of the Japan Society for Aligner Orthodontics held by the day before, so please participate in the main conference as well.
(https://aligner-orthodontic.com/events/9th-jaao-anual/?lang=en)
*Please fill in the application form for each person.
*Registration will be closed as soon as the capacity is reached.