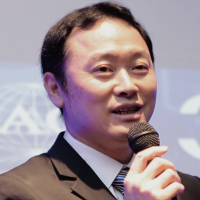 Dr. Yau Yi Kwong
Hong Kong
Abstract
< The Mysterious "Jump" in Aligner Orthodontics >

Abstract : Treating patients with severe antero-posterior, vertical or either transverse discrepancy has always been a very challenging issue in orthodontics. When doing treatment prescription with ClinCheck software, we could ask for A-P, vertical and/or transverse correction with a simulated "jump" which always happens at the latest stage of treatment simulation. The concept is just like a surgical correction simulation. But what kind of jumps we could expect to happen before we start treatment and how it happens? In my presentation, I will share some of my experiences in treating particularly non-surgical growing patients with planned or either un-planned jump during treatment.
Keynote Speaker < Managing Extraction cases with Invisalign >

Challenges in managing extraction cases including anterior torque control, prevent bite deepening, control mesial-distal root tip of teeth adjacent to extraction space, as well as anchorage control. By meticulous treatment planning with ClinCheck simulation, we could overcome most of these challenges simultaneously and thus might be able to reduce the treatment time and to minimise the use of auxiliaries, such as sectional braces and miniscrew anchorage. The innovative G6 features also allow us to have better control in treating 1st premolar extraction cases. I would also share some experiences in using G6 features compared to conventional setup in managing extraction cases in my presentation.
BDS (Hong Kong) , DGDP (UK)
Dr YAU, Yi Kwong was graduated in 1987 and has been practicing as a general dentist for 28 years.
He was Invisalign trained in 2002. Dr YAU is an Elite Platinum service provider since 2008 and over 1000 cases were being treated, whereas over 200 cases were extraction cases.Dr YAU is an Invisalign clinical speaker and he had lectured in Australia, Korea, Taiwan, Thailand, China, Singapore, Japan, Spain and Hong Kong. 
His cases in the international gallery had won the Invisalign Peer Review Award in 2011. And Dr YAU is also a member in the Asia Pacific Invisalign Clinical Advisory Broad.
Affiliation Society
| | |
| --- | --- |
| 2010 | Asia Pacific Invisalign Summit (Thailand) |
| 2012 | Asia Pacific Invisalign Summit (Macau) |
| 2014 | Asia Pacific Invisalign Summit (Singapore) |